The FuturiZe project is co-producing a track of the Lisbon Addictions 2019 conference, focusing on new, emerging and future science, technology, phenomena and practice in the addiction fields. See a short presentation on the FZ track.
The FuturiZe Track themes
The main themes or strands running through the track have been identified through theFuturiZe participatory process, and developed in collaboration with the conference organisers, cross-cutting the traditional working areas of prevention, treatment, harm reduction and policy: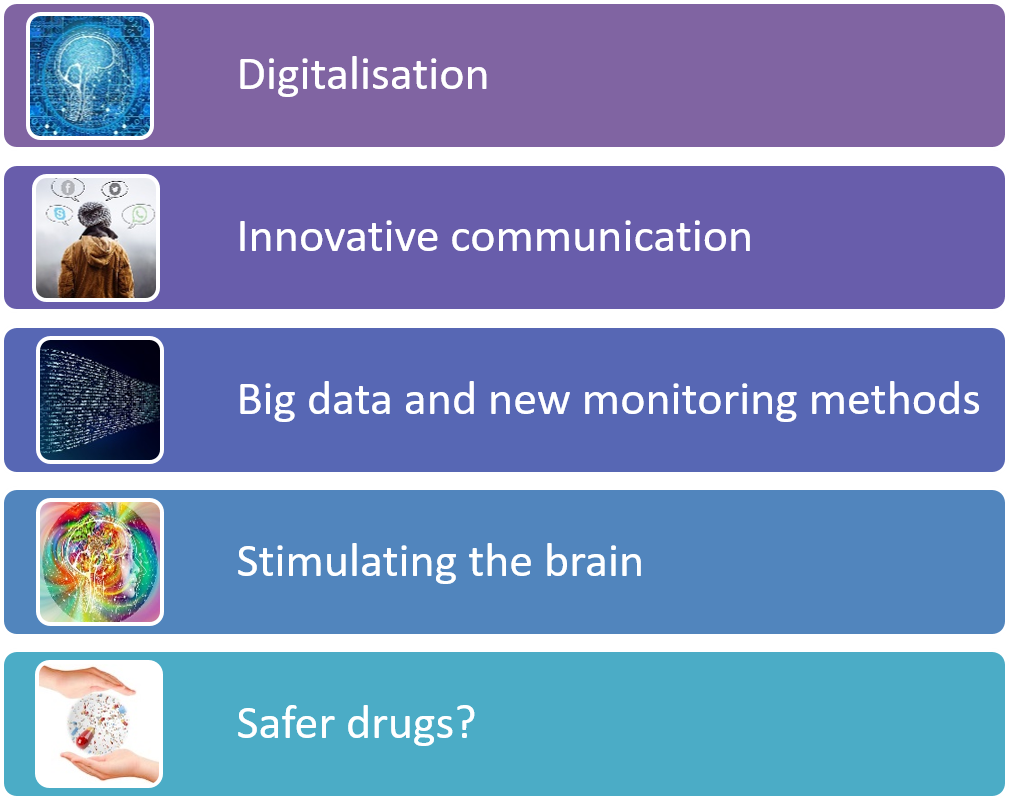 FuturiZe activity formats - in the Futures Zone
The FZ Track will all take place in a dedicated space in Lisbon Addictions 2019 - the Futures Zone.
As well as integrating sessions, presentations and workshops submitted as abstracts to the Lisbon Addiction Conference organisers into the FuturiZe track, FuturiZe is running several types of activities within the programme of Lisbon Addictions (only for conference participants):
FZ Thought Leader Round Table Sessions: Each of the 5 strands above will be explored and discussed in a round table session - starting with an overview from experts from different backgrounds and taking different perspectives of the topics, and challenging the audience to discuss and formulate future directions for addiction science and practice around that theme.
Interractive Game-Jam Workshops: FuturiZe will run two workshops with a Game-Jam format - a gamified session guiding teams through co-creation processes - with future-oriented themes. The two workshops require registration, and will focus on:

digital health solutions (workshop repeated twice on Wed 23 Oct, 13:20 - 14:50 & 16:50 – 18:20): participants will compete to come up with a concept and product outline for a specific d-health solution to an addiction problem.
Future EU reseach projects (Thurs 24 Oct, time TBC): multi-sector teams will compete to develop a project idea as if they were planning a participatory research proposal.
Hands-on technology corner: Permanent exhibition stands and a chance for conference participants to meet the developers of new technology (gadgets and methods), ask questions and see their products or work in action. There will also be a digital health technology tour, lead by FuturiZe participants on Wednesday 23rd and Thursday 24th - meet at the entrance to the Futures Zone 2 at 13h.
Technology Discussion & Demo Sessions: In the same space as the permanenent exhibition (Futures Zone 2), groups of participants will be able to participate in interractive sessions demonstrating the new technology on show and discussing the most important aspects of research and implementation. These sessions require prior registration.
Overview of the FuturiZe track
The complete FZ conference track overview, with details of all sessions, speakers and activities, is available on the Lisbon Addictions 2019 website: https://www.lisbonaddictions.eu/lisbon-addictions-2019/tracks/futurize